Description
15 inch Monitoring Screen For Crypto Mining
This 15 inch Full HD monitor delivers best-in-class picture quality with excellent 178° viewing angles. The 15 inch monitor has a lightweight housing and is ideal for desktop and wall mounting. The 15HD7 can be connected via HDMI, VGA, BNC or RCA connections.
---
Outstanding Full HD image quality
Fitted with a native Full HD IPS panel, the monitor delivers superior image quality, vibrant colors and excellent 178° viewing angles. The matte screen ensures that reflections are kept to a minimum, while contrast, color and brightness are all very easy to adjust. The monitor displays all common resolutions up to 1080p.
---
Versatile connectivity
The 15HD7 has HDMI, VGA, BNC and RCA connections. The connections are located at the back of the monitor, facing downwards, making installation easy in any situation. The monitor can be configured to automatically switch on when it detects current or a video signal.
---
Designed for professional use
The 15HD7 is designed for continuous operation and professional use. The monitor is manufactured with high quality components, guaranteeing reliable operation even in the most challenging environments. The monitor accepts a wide range of input-voltage from 9 to 33 Volts and features a fully dimmable backlight.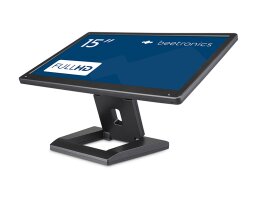 ---
Desktop or wall mounting
The Beetronics 15HD7 has a fully collapsible stand. The stand can be easily removed from the back, allowing access to the 75mm VESA mount. This makes it possible to attach the monitor to a universal wall bracket, in either landscape or portrait mode.