Description
Microbt Whatsminer M30s+102ths
The Whatsminer M30S+ from MicroBT mining SHA-256 algorithm with a maximum hashrate of 102Th/s for a power consumption of 34W per terahash. Buy Whatsminer M30s+Now
 About MicroBT Whatsminer M30S+
A fourth-generation Antminer, the MicroBT Whatsminer M30S+ is a miner with a maximum hash rate of 112 TH/s. The maximum power consumption of 3400W, this promises to be a profitable miner. MicroBT is the manufacturer of this miner, and they have a reputation for creating standard products. The release date of this miner was October 2020, and it uses the SHA-256 Algorithm. With 100,000.0 GH/s, the return per day averages to around $2.56. And this is why the miner is the right fit for mining Bitcoin.
Some of the mineable coins on this miner include Bitcoin and BitcoinCash. The MicroBT Company is promising to be the fiercest competitor to its Bitmain Antminer S19 series. The maximum computing power is enough to give the S19 a run for its money. With an approximate energy cost of 31 J/T, it's a better option than the S19 miners. Each generational MicroBT product seems to be similar in appearance but different in service delivery.
AirSpeed and start-up time
Although the airspeed is not considered useful metrics, we still have to check it out. One has to measure the airflow speed to understand how the miner works. The Whatsminer M30S+ comes with 3.0 m/s airflow. A key area to consider is the boot time with the miners. The M30S+ takes an average of around 27 minutes to boot up. One reason why the boot time is longer than other miners is the safety feature. Safety is considered by the manufacturer when it comes to start-up time.
Energy Efficiency
The MicroBT Whatsminer M30S+ uses an average of 34.4 J/TH, which is one percent above the competitor. It comes with an option of 'high power' mode, which one can experiment on a full day of mining. The miner comes with an average output of 109.4 TH/s, which is a significant increase. When we compare the high power mode and the normal mode, the normal conditions are 3743W and 3331W, respectively.
Sound Levels
After placing the sound meter 15cm away, the Whatsminer M30S+ generates a maximum of 82.0db. It means that the M30S+ is a stable miner as compared to other miners in this category. The superior stability is attributed to the long resilient platform offers over other products.
Temperature
On measuring the temperature every hour, we noticed that the miner is 35.9 degrees centigrade. Due to the high power consumption, we expect the temperature to be higher than other miners.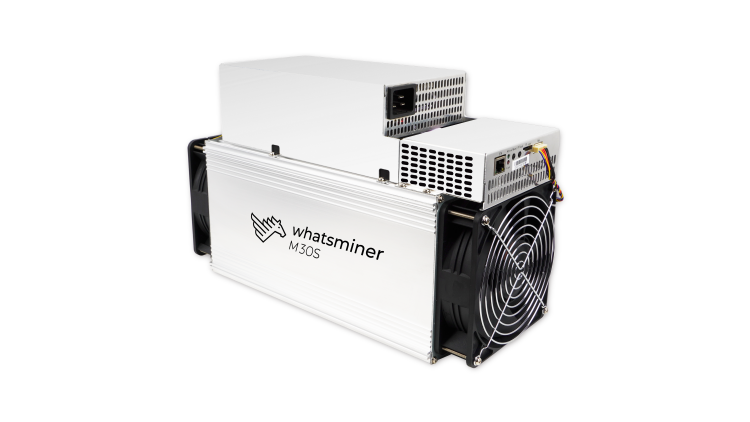 Specifications – Buy Whatsminer M30s+Now

| | |
| --- | --- |
| Norminal Hashrate | 102TH/±5% |
| Power | 3468W±10% |
| Brand | MicroBT |
| Model | M30S+ |
| Carton Size (Length*Width*Hight) | 425mm*155mm*240mm |
| Weight | 12kg |
| Operation temperature | -5℃~35℃~ |
| Operation humidity | 5%RH~95%RH |
| Network Connection | Ethernet |
| Noise | 75dB |